BALMAR DC Charging Systems
REAL PEOPLE - WWW.THESOLARBIZ.COM - 888-826-0939
---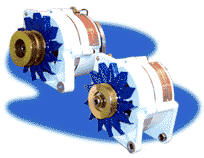 This is the brand of choice here at The Solar Biz. The Balmar line of quality High Output Alternators and DC systems components are second to none. When your need to upgrade the stock alternator in your RV, boat, ambulance, 18 wheeler or fire truck, this is the best way to go. Balmar alternators are a proven reliable design, with years of experience to back them up.
The open ocean is no place for a charging failure, or anywhere else for that matter.
That's why Whitbread racers, world cruisers, top boat builders and the U.S. Coast Guard all look to Balmar premium alternators for high-output performance and solid reliability.
Balmar alternators are built to provide optimum charging capacity at lower rpm's, so you'll enjoy increased economy, shorter charging cycles and increased battery life. Small and large-case Balmar alternators are constructed expressly for rugged heavy duty use -- incorporating extra tough materials for maximum resistance to salt and corrosion. White powder coating ensures that your alternator will remain in top shape long after it's installed in your engine compartment.
No matter what your charging application, there's a Balmar alternator that's just the right size and amperage to get the job done right. Small-case alternators for direct OEM replacement -- to extra-large auxiliary alternators -- provide amperage outputs ranging from 50 amps to a whopping charging power in excess of 310 amps.
We carry the complete line of Balmar Regulators
---
Should I use a small-case or a large-case alternator?
Our small case alternators are ideal for direct OEM replacement on most small to medium horsepower diesel and/or gasoline engines. These high-output models are a terrific source of improved charging power over standard alternators. To see what small case model is best for your engine, click the button below:

What should I do if my energy load is larger than average?
In cases where the added demands of air conditioning, refrigeration and other power hungry AC and DC loads are commonplace, our high-capacity, large frame alternators can produce quantities of charging power. These higher-output alternators provide the increased amperage capacity needed to satisfy the demands of serious power users.

My system includes a large inverter and substantial battery capacity.
When system loads include a substantial number of large, deep-cycle batteries, inverter, larger refrigeration or air conditioning systems, and other high-demand components, you may want to consider the benefits of Balmar extra large-frame alternators. These powerful models provide the additional heft and extraordinary amperage necessary to handle the most demanding system structure. Many models feature brushless construction for long-lasting dependability. Click the button to see the extra-large case alternators.

---

· We are a full service company. We want a real person to consult with you because, we want to be sure that you don't waste your time and money and that you buy only what you need.
· We strongly recommend that you talk with us first about your solar power needs. Please use our expertise as a resource.
We have been working with solar energy & battery systems since 1969... Almost a Half Century of Experience. Our 47th Anniversary!!
If you think you find a better price anywhere, call us before you buy.

Call us Toll Free at: 1-888-826-0939
Central America: (Panamá) 507-836-5588
Other International: 1-575-539-2111
E-mail us at: info@solar-biz.com
PLEASE NOTE: Hours, Monday thru Friday 9:00 AM to 7:00 PM Central Time.
Doing business with The Solar Biz is easy! Check out our Terms and Conditions regarding ordering, payments, shipping, returns, credits and special handling.
Except as otherwise noted, the text and graphics provided on our web site are copyrighted by The Solar Biz Inc. or its licensors. Material on this site is intended for your personal use only. The Solar Biz Inc. does, however, permit visitors to make a single copy of the information published on The Solar Biz Inc. web site for their personal, non-commercial use or use within the organization that employs them.
Pursuant to the Digital Millennium Copyright Act of 1998, use of this web-site's unique copyright protected intellectual property or Registered Trademarks, without prior written permission, for any purpose including but not limited to advertising, promotion or sale of products or services, for business or private financial gain, any commercial advantage, or the enhancement of competing websites, or any other marketing media, constitutes an act of willful copyright infringement.
PLEASE NOTE: Such willful infringement provides for substantial financial penalties and potential criminal prosecution. Remedies for such violations include not only injunctive relief against the infringer, but also recovery of profits and damages suffered by the copyright owner. 17 U.S.C.A. § 504. In addition, such relief includes recovery of attorneys' fees and costs incurred in connection with litigating the matter where infringement is willful. For more information on THE DIGITAL MILLENNIUM COPYRIGHT ACT OF 1998 please visit: http://www.copyright.gov/legislation/dmca.pdf
Copyright © 1997- 2016 The Solar Biz ™. All Rights Reserved