Battery / Inverter Cabling and Accessories
REAL PEOPLE - WWW.THESOLARBIZ.COM - 888-826-0939
Custom Battery / Inverter Cables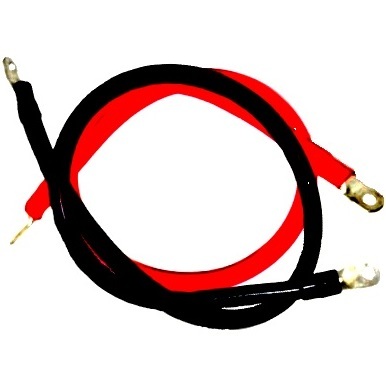 With almost a half century experience of making battery cables for the over the road heavy truck industry we don't solder our cables because a soldered connection puts solder between the wire and the lug. Solder is not as good a conductor as copper. A copper to copper twelve ton crimped connection is the best because, it carries more amperage and it's UL Listed.
UL Listed custom made cables of the finest code approved flexible cable, crimped UL lugs with Red, White or Black heat shrink tubing. Our UL Listed crimped lugs make the best connection because they are hands down, the thickest, heaviest, most durable and conductive lug in the world.
Our code approved custom cable sets are, beyond a doubt, the best you can buy. They will serve your system well for many years to come.
We can custom make any cable length you require in 4 ga, 2 ga, 2/0 ga and 4/0 ga UL Listed Ultra-flex cable. Call 888-826-0939 to discuss your needs and for pricing.
Acid Spill Absorber & Neutralizer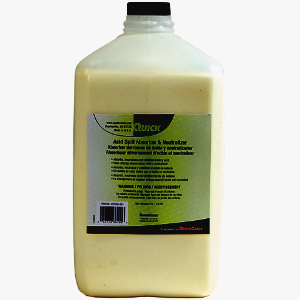 This amazing product is way beyond anything else on the market you could use. For years all we had to recommend to folks was to sprinkle baking soda on the floor underneath their battery installation. The result was marginal at best.
Now you can spread our acid spill absorber & neutralizer with confidence that any spill will be contained and neutralized. The formula changes color when acid is present and then changes color again when the acid is neutralized. No guessing that it worked... you see visual proof it has done its job. We sell the 8 pound bucket which should be enough for the life of your batteries.
We recommend spreading the formula on the floor under your protective floor mat and then on top of the mat as well. Then place you batteries directly on the formula. Any spillage will be quickly absorbed and neutralized.
Ultra Polymer Absorber is safe and non hazardous.

Sweeps up clean and dry not dusty like kitty litter.

Specifically formulated to neutralize Sulfuric Acid

Does NOT create asphyxiating Carbon Dioxide Gas
Part Number TSB-510130 PRICE: CLICK FOR PRICE
QuickCote+ Protective Compound
QuickCote+ Protective compound for battery terminals and connections. Special Formula seals terminals and connections against corrosion, moisture, dirt and oil.
Brush on application stays put, won't drip of evaporate. Use on all exposed electrical terminals and connections. Also prevents seizing of fasteners.
8 Ounce Can with Applicator Brush, will coat one HUP Solar One 12 volt battery, for 24 volt order two cans etc.
Part Number TSB-06023 PRICE: CLICK FOR PRICE
Floor Protective Battery Mat
Everybody who sets up a battery system always asks... What should I put under my batteries to protect my floor?
Here's the answer... Our acid absorbing battery mat! We sell it in a convenient 3 foot by 10 foot roll. A perfect size for most battery installations. Can be cut to size.
Mat absorbs Acid but won't leak through tough Polypropylene backing.

Electrically isolates batteries, preventing parasitic discharge.

Use over and over again.

Protects floors and equipment from acid corrosion.
Part Number TSB-510170 Click for Price
Eyewash Station
Setting up a renewable energy battery system? Don't forget the most important item! I recommend placing our Eyewash Station where you can easily find it blind, if you get acid in your eyes. Just grab the bottle of sterile eyewash and irrigate your eyes. You can't buy new eyes... This is the most important part of your battery system get one now, don't risk your precious eyes.
Part Number TSB-510521 Click For Price
Battery Cable - Interconnects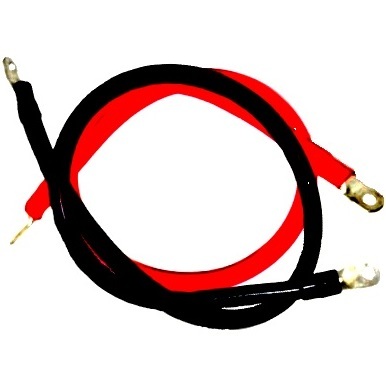 Highest quality multi-stranded copper welding cable with twelve ton crimped tinned copper lugs and heat shrink tubing on both ends. Our crimped copper lugs make the best connection because they are a copper to copper connection.
After almost a half century experience of making battery cables for the over the road heavy truck industry we don't solder our cables because a soldered connection puts solder between the wire and the lug and solder is not as good a conductor as copper. A copper to copper ten ton crimped connection is the best because, it carries the most amperage.
We will custom make any gauge and length interconnect you require, using superior quality Lugs and Heavy duty Heat Shrink, call 888-826-0939 to order.
| | |
| --- | --- |
| Battery Interconnects for Renewable Energy Deep Cycle Batteries | PRICE |
| For the Full Selection of Superior UL Listed Battery and Inverter Cables | CLICK FOR PRICE |
Bulk UL Listed Ultra Flexible Cable
Sold by the foot Stranded single conductor UL Listed copper wire as described below. All the wire listed below is super flexible
| Model Number | Gauge | Description | Price |
| --- | --- | --- | --- |
| TSB-203??? | 2, 2/0 4/0 awg Black and Red | UL Listed Cable per ft. | |
---
DC Breaker Box and Breakers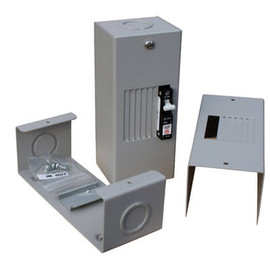 Got a real small DC only system and only need a few breakers?... here's your answer. Here is very handy impossible to find item. It is a small DC/AC breaker box. Will accept 1 to 4 either DC or AC din rail mount breakers. 3/4-1 inch knockouts top and bottom. Small size 3" X 3" X 7" Weight 2 Lbs. Rated for indoor use only. Order breakers separately. See below.
The 63 amp breaker listed below can be used with the Outback MX-60 Charge controller. So if you need to add another charge controller to your ever expanding system and were wondering where the breakers were going to go in your full DC breaker box... here's your answer
I have only listed the DC breakers below but we also carry AC din rail mount breakers for the same price as the DC. Call 888-826-0939 with your needs.
---
Power Vent
Battery Bank Ventilation
Ventilates hydrogen that's naturally generated through the charging of your battery bank. Prevents dangerous build up of explosive hydrogen gas. Uses very little power. Guaranteed for 4 years. Choice of 12, 24 or 48V DC models.
The POWER VENT was designed for use in remote home power systems. The concept arose from field experience of systems with enclosed battery boxes. Quite often the NEC required venting was found back drafting, thus cooling the battery bank and lowering its' capacity as well as venting hydrogen gas into the structure.
POWER VENT alleviates this condition by keeping a gravity operated damper closed within the vent pipe except at times when the batteries are being charged and producing hydrogen gas. During these times the battery box is force vented with a low power, sparkless fan which overcomes the damper sending the gas outdoors. The "fan on" mode is determined by the battery voltage. When the batteries are "gassing" during charge periods the battery voltage will read above normal. A voltage sensitive switch is required in the system to make the on/off determination. All TRACE SW model inverters have a programmable auxiliary relay which can operate the POWER VENT. Other systems require the addition of a voltage controlled switch.
| | | |
| --- | --- | --- |
| Model Number | Description | Price |
| ZEP-20000 | 12Volt or 24 Volt Power Vent | Discontinued |
| PV-48V | 48 Volt Power Vent | Discontinued |
---

· We are a full service company. We want a real person to consult with you because, we want to be sure that you don't waste your time and money and that you buy only what you need.
· We strongly recommend that you talk with us first about your solar power needs. Please use our expertise as a resource.
We have been working with solar energy & battery systems since 1969... Almost a Half Century of Experience. Our 47th Anniversary!!
If you think you find a better price anywhere, call us before you buy.

Call us Toll Free at: 1-888-826-0939
Central America: (Panamá) 507-836-5588
Other International: 1-575-539-2111
E-mail us at: info@solar-biz.com
PLEASE NOTE: Hours, Monday thru Friday 9:00 AM to 7:00 PM Central Time.
Doing business with The Solar Biz is easy! Check out our Terms and Conditions regarding payments, shipping, returns, credits and special handling.
Except as otherwise noted, the text and graphics provided on our web site are copyrighted by The Solar Biz Inc. or its licensors. Material on this site is intended for your personal use only. The Solar Biz Inc. does, however, permit visitors to make a single copy of the information published on The Solar Biz Inc. web site for their personal, non-commercial use or use within the organization that employs them.
Pursuant to the Digital Millennium Copyright Act of 1998, use of this web-site's unique copyright protected intellectual property or Registered Trademarks, without prior written permission, for any purpose including but not limited to advertising, promotion or sale of products or services, for business or private financial gain, any commercial advantage, or the enhancement of competing websites, or any other marketing media, constitutes an act of willful copyright infringement.
PLEASE NOTE: Such willful infringement provides for substantial financial penalties and potential criminal prosecution. Remedies for such violations include not only injunctive relief against the infringer, but also recovery of profits and damages suffered by the copyright owner. 17 U.S.C.A. § 504. In addition, such relief includes recovery of attorneys' fees and costs incurred in connection with litigating the matter where infringement is willful. For more information on THE DIGITAL MILLENNIUM COPYRIGHT ACT OF 1998 please visit: http://www.copyright.gov/legislation/dmca.pdf
Copyright © 1997- 2016 The Solar Biz ™. All Rights Reserved