OUTBACK PSPV Combiner Box
REAL PEOPLE - WWW.THESOLARBIZ.COM - 888-826-0939

OutBack PSPV Combiner Box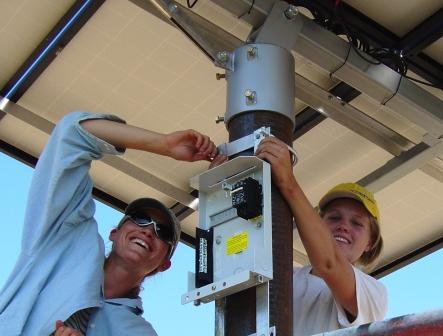 OutBack Power Systems now offers a PV array combiner which can be used with a wide variety of PV system designs and module configurations. Can be configured with DC breakers for low voltage systems (under 125 VDC) or touch safe type fuse holders for high voltage systems (up to 600 VDC). The PSPV is designed to provide NEC code compliant overcurrent protection and interconnection of multiple PV panels or sub arrays into one or more PV arrays for connection to charge controllers or inverter systems. The PSPV is easily field configured to match your system design and ampacity requirements - It is shipped without the breakers or fuse holders installed – order the quantity, type and amperage needed below.
Standard Features and Components
·
Outdoor, rainproof powder coated aluminum enclosure – can be installed on vertical or sloped surfaces or pole mounted
· Snap in DIN rail mounting spaces for up to twelve 125 VDC rated OutBack PV breakers. PV Breakers are hydraulic-magnetic type and are not affected by high ambient temperatures. 10 year warranty on the PV breakers. For 12, 24, 48 and 60 VDC systems with PV array open circuit voltages up to 125 VDC. Load break rated.
· Also available with touch safe type midget fuse holders for high voltage systems up to 600 VDC
· Dual positive breaker combiner bus bars – can be installed to provide one or two PV output circuits
· PV negative terminal bus bar with mounting holes for an additional TBB
· #1/0 AWG set-screw compression type box lug terminals for output wiring – accepts bare cable
· Four Ύ and 1 inch conduit knockouts – one on the bottom, back and each side – enough space provided on bottom and back to allow up to a 2 inch conduit punch for larger cabling
· Eight ½ inch knockouts on bottom for PV module or sub array input conduits or strain relief's
· #1/0 AWG ground lug - can be mounted either on the inside or outside surface
· For negative or positive ground PV systems
· Space allowed for the addition of current sensors and lightning protection components

Optional Components (click here for current components)
SIS-50501 - Lay-In Ground Lug 4-14 with Stainless Steel Screw. For connecting module frame ground wire and combiner box to array ground stake. Mounts on outside of Combiner Box.
OBP-09000 - Ground Bus Bar - provides additional ground terminations - three #1/0 and eight #6 max
OBPV-6, OBPV-10 OBPV-15 - UL listed DC breakers - 125 VDC max open circuit with elevator type compression terminals for #2-14 AWG bare wire - 6, 10, 15 amp models available
OBP-06200 - OB/FH -Touch safe type fuse holder 600 VDC fuses – accepts #8-14 AWG wire
OB/F6, OB/F10, OB/F15 - 600 VDC KLKD fuses for the OB/FH fuse holder
OBP-09110 TBB - Insulated terminal bus bar for adding a second isolated negative circuit (required when using with two Blue Sky Solar Boost MPPT controllers)
Physical Dimensions
· PSPV enclosure: 9.2" wide x 3.5" deep x 13.1" tall (23.1cm x 8.7cm x 33.2cm)
· Shipping size: 10" x 4" x 14" Shipping Weight: 6 pounds (2.7 kG) + options

PV Array Combiner Components

We have been working with solar energy & battery systems since 1969... Over Four Decades.
Forty
Seven Years Experience!!

· We are a full service company. We want a real person to consult with you because, we want to be sure that you don't waste your time and money and that you buy only what you need.
· We strongly recommend that you talk with us first about your solar power needs. Please use our expertise as a resource.
We have been working with solar energy & battery systems since 1969... Almost a Half Century of Experience. Our 47th Anniversary!!
If you think you find a better price anywhere, call us before you buy.

Call us Toll Free at: 1-888-826-0939
Central America: (Panamα) 507-836-5588
Other International: 1-575-539-2111
E-mail us at: info@solar-biz.com
PLEASE NOTE: Hours, Monday thru Friday 9:00 AM to 7:00 PM Central Time.
Doing business with The Solar Biz is easy! Check out our Terms and Conditions regarding ordering, payments, shipping, returns, credits and special handling.
Except as otherwise noted, the text and graphics provided on our web site are copyrighted by The Solar Biz Inc. or its licensors. Material on this site is intended for your personal use only. The Solar Biz Inc. does, however, permit visitors to make a single copy of the information published on The Solar Biz Inc. web site for their personal, non-commercial use or use within the organization that employs them.
Pursuant to the Digital Millennium Copyright Act of 1998, use of this web-site's unique copyright protected intellectual property or Registered Trademarks, without prior written permission, for any purpose including but not limited to advertising, promotion or sale of products or services, for business or private financial gain, any commercial advantage, or the enhancement of competing websites, or any other marketing media, constitutes an act of willful copyright infringement.
PLEASE NOTE: Such willful infringement provides for substantial financial penalties and potential criminal prosecution. Remedies for such violations include not only injunctive relief against the infringer, but also recovery of profits and damages suffered by the copyright owner. 17 U.S.C.A. § 504. In addition, such relief includes recovery of attorneys' fees and costs incurred in connection with litigating the matter where infringement is willful. For more information on THE DIGITAL MILLENNIUM COPYRIGHT ACT OF 1998 please visit: http://www.copyright.gov/legislation/dmca.pdf
Copyright © 1997- 2016 The Solar Biz ™. All Rights Reserved