Pool and SPA Heaters
REAL PEOPLE - NOT "BUY IT" BUTTONS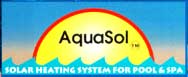 Aquasol Pool & Spa Solar Collectors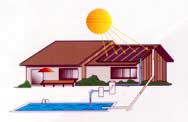 Made of polypropylene copolymer with UV inhibitors and antioxidants and are resistant to UV damage and corrosion from chlorinated water.
Collectors have a 10 year limited warranty. The following packaged systems include collectors, panel kits, system kit, electronic control, ball valves, check valves, and flow meters.
| | |
| --- | --- |
| | Installation manuals are supplied for easy installation. |
| | Figure collectors at half the square footage of pool square footage. |
| | We can supply collectors in three different sizes: 4'x8', 4'x10' and 4'x12'. Price will vary for a different number or size of collectors. Please call for a quote. |
Price does not include shipping
Model Number
Description
Ship Wt. (lbs)
Price
1800A
Complete System with 320 sq. ft. of Collectors for a 640 sq. ft. pool
8, 4X10 Collectors
350
$2029.97
1801A
Complete System with 400 sq. ft. of Collectors for a 800 sq. ft. pool
10, 4X10 Collectors
380
$2319.97
1802A
Complete System with 480 sq. ft. of Collectors for a 960 sq. ft. pool
12, 4X10 Collectors
420
$2679.97

We have been working with solar energy & battery systems since 1969... three and a half decades.
Thirty Five Years Experience!!
The Most Complete Renewable Energy
Product Inventory
There are over 400 Pages on this Web site. At over 11,700 items it is one of the world's largest Renewable Energy web sites. Take some time and scroll down this page to check out the amazing and essential products we offer.
Our solar panels are the lowest price on the planet!