Sunny Boy 2500 Utility Grid Tie Inverter
REAL PEOPLE - NOT "BUY IT" BUTTONS - 888-826-0939

Sunny Boy 2500 Utility Grid Tie Inverter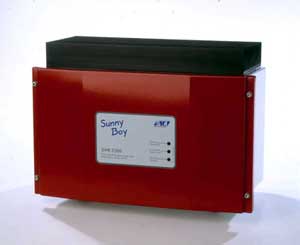 These well made units are manufactured by SMA in Germany they are currently the state-of-the-art available. The Sunny Boy inverter allows for modular system design.
One high voltage series string of solar modules is connected to each inverter, vastly simplifying design and installation. This results in no mismatching from parallel connections and Maximum Power Point Tracking for every series string.
System expansion is easy - just add more inverters and series strings of solar modules. (The largest system to date uses 569 Sunny Boy inverters on a single building!) This modular approach results in a cost effective way to build large systems. Sunny Boy requires approximately 11 modules of a nominal 24 VDC connected in series.
This number may change for different climates. Please contact us for more specific information concerning your region.
New Lower Prices
SMA Model
Description
PRICE
Sunny Boy 2500UL
Utility Grid Tie Inverter
(Without Display)
$1999.97
Sunny Boy2500SBU
Utility Grid Tie Inverter
(With Display)
$2199.97
600 VDC Disconnect
(Between array and inverter.
Required by code)
$199.97
Sunny Boy Control
Lite
$479.97
Sunny Boy Control
Standard
$799.97
Sunny Boy Control
Plus
$1729.97
SMA RS-232N
RS-232 Data Port
$139.97
The Sunny Boy 2500 has a peak efficiency of more than 94%. It will accept a maximum of 3,300 watts (or 11 amps), of PV power. Housed in a watertight stainless steel outdoor enclosure, the Sunny Boy operates in extreme conditions (ambient temperatures of -25° C to +60° C). It can even be mounted right on the roof with the modules! You can combine 18 to 24, 12 volt nominal solar modules to make up a series string. Since the solar modules are arranged in high voltage arrays (275 - 550 volts DC), these systems must be installed by a qualified electrician. The Sunny Boy is a high quality, reliable intertie inverter at a great purchase price whose design minimizes installation costs.
Sunny Boy system diagnosis and control can be transmitted to your PC via the AC power line using the optional Power Line Carrie Modem and is accessed through free Windows software. RS-232 and RS-485 communications modules also available. Additional control options are available for large systems. Optional Display can be user installed or purchased pre-installed.
General Data

Size

434 x 295 x 214 mm
17.1" x 11.6" x 8.4"

Weight (approx.)

34 kg (75 lbs. approx.)

5 Year Warranty

UL Listed

We have been working with solar energy & battery systems since 1969... three and a half decades.
Thirty Seven Years Experience!!

The Most Complete Renewable Energy
Product Inventory
There are almost 500 Pages on this Web site. At over 11,700 items it is one of the world's largest Renewable Energy web sites. Take some time to check out the amazing and essential products we offer.
Our solar panels are the lowest price on the planet!

Some manufacturers do not permit the posting of less than List Prices on the web. We sell for less.
PLEASE CALL TOLL FREE 888-826-0939 FOR PRICING!
Low Price Guarantee! If you think you find a better price anywhere, call us before you buy. We'll fix you up.