Flowlight Booster Pump

Use DC or AC power to pressurize water. Provides 3-4.5 Gallons per Minute (10-17 lpm) at pressure as high as 65 PSI (4.5 kg/sq. cm) from shallow water sources.
The Flowlight Booster Pump provides city water pressure, anywhere you need it. This pump has been the standard in home renewable energy systems since 1986. It is economical for domestic water supply, drip irrigation, and water purification. It is available in 12, 24, 48 Volt DC and 110 Volt AC. There is a low speed model available in 12 and 24 Volt and a standard speed model available in all voltages.
Please don't confuse this unit with the cheep-o RV/Marine short lived diaphragm pumps on the market. This pump a high quality heavy-duty unit. The pump has a 15 to 20 year life cycle.
Shown at left is the pump with the optional EZ-install kit and the required 5 micron inline filter. We recommend an 84 gallon pressure tank, but you can use a somewhat smaller one but bear in mind the pump will run more often with a smaller tank. Don't use less than a 40 gallon pressure tank with this unit. We sell pressure tanks and we can easily ship you a good quality one to go with this pump.

| | |
| --- | --- |
| | A booster pump is far more cost effective than an elevated tank, providing pressure equivalent to over 100 feet (30m) of elevation. |
| | This DC pump uses one third to one half the energy of a conventional AC pump, and eliminates the high starting surges that push inverters to the limit. |
| | It is more powerful, quieter, and much more durable than plastic RV/Marine pumps. Wearing parts are replaceable, and typically last 5 to 10 years. Overall life expectancy is 15 to 20 years. |
| | Our complete instruction manual and Easy Installation Kit make this pump simple for anyone to install and service, with no previous experience. |
Click here for Booster Pump Pricing

We have been working with solar energy & battery systems since 1969... Over four decades.
Forty-Four Years Experience!!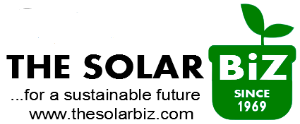 The Most Complete Renewable Energy
Product Inventory
There are almost 500 Pages on this Web site. At over 11,700 items it is one of the world's largest Renewable Energy web sites. Take some time and scroll down this page to check out the amazing and essential products we offer.
Our solar panels are the lowest price on the planet!

Some manufacturers do not permit the posting of less than List Prices on the web. We sell for less.
PLEASE CALL TOLL FREE 888-826-0939 FOR PRICING!
Low Price Guarantee! If you think you find a better price anywhere, call us before you buy. We'll fix you up.