You really can't make a better choice than these batteries, we use them here at Solar Biz New Mexico to power our offices and our house, they never miss a beat. We're not saying that these are the best batteries in the world, there are certainly equals, but there are none better.
You do have to tend to the care and feeding of these babies, as they are expensive and even unintentional lack of care could ruin them.
See Our Elegant Battery Filling Systems
---
CLICK HERE FOR UP-TO-DATE LOW PRICING
HuP Solar-One
The custom made long life battery system for renewable energy users.
Like many other technological breakthroughs, HuP (High Utilization Positive) was created in response to another need. Patented in 1982, its original objective was to meet tough new environmental standards, and help eliminate lead dust from the battery manufacturing plant. But it was discovered during initial testing that the HuP exhibited cycling capabilities well in excess of conventional batteries.
These impressive findings led to HuP being selected for use as "load leveling" at the Southern California Edison Company's Chino power facility in 1987. Since going on-line, the 10 megawatt HuP battery system has proven to be 100% reliable in meeting daily deep cycle requirements. This continued enhanced performance led engineers at General Battery/Hertner to develop HUP for yet another application: motive power.
In 1991, HUP proved its mettle under extreme conditions in Operation Desert Storm, where it was used in materials handling vehicles delivering 10.5 million tons of supplies and equipment. Now you too can enjoy the benefits of the proven HUP Technology in your Renewable Energy System.
GUARANTEED LOW PRICING WITH A BETTER - LONGER WARRANTY
CLICK HERE FOR UP-TO-DATE LOW PRICING
---
We have been getting a lot of telephone calls lately from our customers here at The Solar Biz about the www.elcheap-osolar.com or some similar name web site supposedly selling the HuP Solar One battery at what looks to be a real discounted price.
We can assure you it is not a REAL HuP Solar One on their site, it is not even made by the same company and, if you look at the specs on this imposter battery you will see that it is not even the same size, what's more it only has a five year pro-rated warranty... why? Because it is just a fork-lift battery. A fork-lift battery! It is not made for solar applications and it surely will not last you 20 years like the REAL HuP Solar One battery.
These guys are trying to pawn off a forklift battery to unsuspecting new battery buyers by using a confusingly similar name to the HuP Solar One because our battery is built like a rock and enjoys the best reputation in the industry.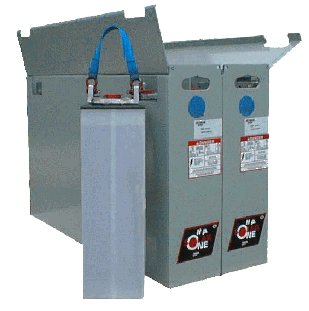 I had a fellow call me in tears who bought one of these fake batteries in 48 volt and he wanted to put it in his basement but when it arrived it was a solid unit weighing over two tons! He initially had called me to complain that the battery on our web site had removable cells in our picture (see left) but the one he got didn't. I sadly assured him it was a fake and not the real HuP Solar One and it did not come from us.
Don't you get fooled too! You may not get what you pay for!
---
FEATURES
2100 80% deep cycles over 10-year warranted service life. 4000 50% deep cycles.

10 year warranty - 7 years free replacement + 3 years prorated... The Best Warranty in the Industry!

Slightly enlarged epoxy coated steel case and portable (but real heavy) cells

Lifetime jar-to-cover heat seal guarantee

Lead plated copper inter-cell connectors with stainless steel connecting hardware

FREE FREIGHT* in continental (48) United States

ISO-9000 Certified manufacturing plants and process


---

*Does Free Freight mean that the HuP Solar-One will be delivered to my door?

Not necessarily. Free shipping means the battery will be shipped from the factory to the nearest business with a forklift or loading dock (building supply, hardware store etc.), or your nearest truck terminal. In order to efficiently ship the HuP Solar-One the trucking company used by the factory needs to know what to expect on the receiving end. They will not ship residential and they make no exceptions!

---
BENEFITS
More cycles mean longer Renewable Energy life compared to other batteries

Best warranty in the Renewable Energy industry

Easy on site cell assembly in any location

Added protection for your battery investment

Quality connectors maximize energy transfer, reduce corrosion, and maintenance

Lower cost

Assures you of batteries made to the highest international quality standards
HuP Solar-One New LONGER WARRANTY and SPECIFICATIONS
10 Year Warranty (7 years free replacement - 3 years prorated) See Full Warranty
Designed and Warranted cycles to 80% DOD - 2100 Over 10 Years.
Estimated real-life charge/discharge cycles to 50% Depth of Discharge - 4000 Cycles
Battery Type - Flooded Lead-Acid
Positive Plate - Tetrafluoroethylene (Teflon®) /Lead Antimony
Post-to-Cover Seal - Burned Post to Cover
Cell "Jar" Material - Injection Molded Polypropylene
Cell Cover Material - Polypropylene
Can Material - Epoxy Coated Steel
Inter-cell Connectors - Lead-Plated Copper Rated @ 700 Amps
Specific Gravity @ 77°F - 1.285-1.275 100% Charged 1.160 80% Discharged
Model # Breakdown
Example: SO-6-85-17
SO = Solar One
6 = 6 cells per can
85 = 85 amps per positive plate
17 = 17 plates total (8 pos. & 9 neg.)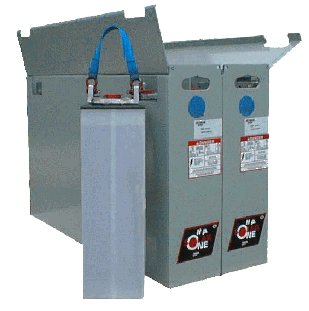 This photo at left shows a 24 volt SO-6-85-17/24 HuP Solar-One. Notice how one of the 12 cells has been removed from the epoxy coated steel container.
The cell lifting strap shown is provided with the battery along with an owners manual, a 10 year maintenance logbook.

Weight: 1540 lbs.
Dimensions: 40"L x 15.5"W x 25" H
Dry charged units are absolutely not available.

Export Crating is available at 8% over the invoiced cost of the total battery shipment.
---
Acid Spill Absorber & Neutralizer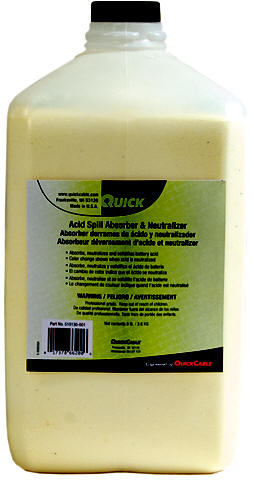 This amazing product is way beyond anything else on the market you could use. For years all we had to recommend to folks was to sprinkle baking soda on the floor underneath their battery installation. The result was marginal at best.
Now you can spread our acid spill absorber & neutralizer with confidence that any spill will be contained and neutralized. The formula changes color when acid is present and then changes color again when the acid is neutralized. No guessing that it worked... you see visual proof it has done its job. We sell the 8 pound bottle which should be enough for the life of your batteries.
We recommend spreading the formula on the floor under your protective floor mat and then on top of the mat as well. Then place you batteries directly on the formula. Or in the case of HuP Solar One batteries also sprinkle into the bottom of the cans as well. Any spillage will be quickly absorbed and neutralized.
Ultra Polymer Absorber is safe and non hazardous.

Sweeps up clean and dry not dusty like kitty litter.

Specifically formulated to neutralize Sulfuric Acid

Does NOT create asphyxiating Carbon Dioxide Gas
Part Number TSB-510130 Click For Price
---
QuickCote+ Protective Compound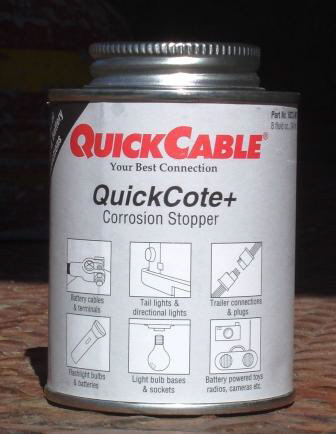 QuickCote+ Protective compound for battery terminals and connections. Special Formula seals terminals and connections against corrosion, moisture, dirt and oil.
Brush on application stays put, won't drip of evaporate. Use on all exposed electrical terminals and connections. Also prevents seizing of fasteners.
8 Ounce Can with Applicator Brush, will coat one HuP Solar One 12 volt battery, for 24 volt order two cans and for 48 volt three cans will do fine.
Part Number TSB-06023 Click For Price
---
Floor Protective Battery Mat
Everybody who sets up a battery system always asks... What should I put under my batteries to protect my floor?
Here's the answer... Our acid absorbing battery mat! We sell it in a convenient 3 foot by 10 foot roll. A perfect size for most battery installations. Can be cut to size.
In anticipation of a battery spill we spread TSB-510130 Acid Spill Absorber and Neutralizer under the batteries (on top of the mat) to neutralize acid and then shop-vac to remove the neutralized spill and reuse mat again. Will last the life of many battery installations. Much cheaper than a truck bed mat, which doesn't absorb anything anyhow.
Mat absorbs Acid but won't leak through tough Polypropylene backing.

Electrically isolates batteries, preventing parasitic discharge.

Use over and over again.

Protects floors and equipment from acid corrosion.
Part Number TSB-510170 Click For Price
---
Eyewash Station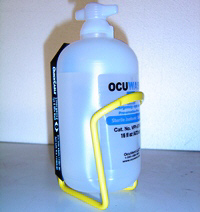 Setting up a renewable energy battery system? Don't forget this most important item! I recommend placing our Eyewash Station where you can easily find it blind, if you get acid in your eyes. Just grab the bottle of sterile eyewash and irrigate your eyes. You can't buy new eyes... This is the most important part of your battery system get one now, don't risk your precious eyes.
Part Number TSB-510521 Click For Price
---
HuP. Solar-One Battery Pricing

g.
GUARANTEED LOW PRICING, A BETTER - LONGER WARRANTY and FREE SHIPPING*
Solar Biz 12 Volt HuP. Solar-One Pricing
Model#/Volts 12V
Rated A/H
Usable A/H
Rated
Watts/Hrs.
DOD
Cycles
Cells
LxWxH
in inches
Lbs.
Price
NWE-11712
845
676
10,140
80%
2100
6
40X7.75X25
742
Click for Price
NWE-11912
950
860
11,400
80%
2100
6
40X8.55X25
808
Click for Price
NWE-12112
1055
884
12,660
80%
2100
6
40X8.75X25
880
Click for Price
NWE-12312
1160
928
13,920
80%
2100
6
40X9.00X25
959
Click for Price
NWE-12512
1270
966
15,240
80%
2100
6
40X10.25X25
1036
Click for Price
NWE-12712
1375
1100
16,500
80%
2100
6
40X11.25X25
1102
Click for Price
NWE-13112
1585
1268
19,020
80%
2100
6
40X12.75X25
1252
Click for Price
NWE-13312
1690
1352
20,280
80%
2100
6
40X13.5X25
1336
Click for Price
NWE-13212
1990
1592
23,880
80%
2100
6
40X13.5X28
1550
Click for Price
---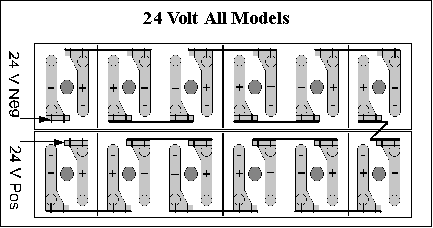 GUARANTEED LOW PRICING, A BETTER - LONGER WARRANTY and FREE SHIPPING*
Solar Biz 24 Volt HuP. Solar-One Pricing
Model#/Volts 24V
Rated A/H
Usable A/H
Rated
Watts/Hrs.
DOD
Cycles
Cells
LxWxH
in inches
Lbs.
Price
NWE-21724
845
676
20,280
80%
2100
12
80X7.75X25 or 40X15.5X25
1484
Click for Price
NWE-21924
950
860
22,800
80%
2100
12
80X8.55X25 or 40x17.1x25
1616
Click for Price
NWE-22124
1055
884
25,320
80%
2100
12
80x8.75x25 or 40x17.5x25
1760
Click for Price
NWE-22324
1160
928
27,840
80%
2100
12
80x9.00x25 or 40x18.00x25
1918
Click for Price
NWE-22524
1270
966
30,480
80%
2100
12
80X10.25x25 or 40x20.5x25
2072
Click for Price
NWE-22724
1375
1100
33,000
80%
2100
12
80x11.25x25 or 40x22.5x25
2204
Click for Price
NWE-23124
1585
1268
38,040
80%
2100
12
80x12.75x25 or 40x25.5x25
2504
Click for Price
NWE-23324
1690
1352
40,360
80%
2100
12
80x13.5x25 or 40x27.0x25
2672
Click for Price
NWE-23424
1990
1592
47,760
80%
2100
12
80x13.5x28 or 40x27.0x28
3100
Click for Price
---
GUARANTEED LOW PRICING, A BETTER - LONGER WARRANTY and FREE SHIPPING*
Solar Biz 48 Volt HuP. Solar-One Pricing
Model#/Volts 48V
Rated A/H
Usable A/H
Rated
Watts/Hrs.
DOD
Cycles
Cells
LxWxH
in inches
Lbs.
Price
NWE-41748
845
676
40,560
80%
2100
24
160X7.75X25 or 80X15.5X25 or 40x31x25
2968
Click For Price
NWE-41948
950
860
45,600
80%
2100
24
160X8.55X25 or 80x17.1x25 or 40x34.2x25
3232
Click For Price
NWE-42148
1055
884
50,640
80%
2100
24
160x8.75x25 or 80x18x25 or 40x36x25
3520
Click For Price
NWE-42348
1160
928
55,680
80%
2100
24
160x9.00x25 or 80x18x25 or 40x36.00x25
3836
Click For Price
NWE-42548
1270
966
60,960
80%
2100
24
160X10.25x25 or 80x20.5x25 or 40x41.1x25
4144
Click For Price
NWE-42748
1375
1100
66,000
80%
2100
24
160x11.25x25 or 80x22.5x25 or 40x45.0x25
4408
Click For Price
NWE-43148
1585
1268
76,080
80%
2100
24
160x12.75x25 or 80x25.5x25 or 40x51.0x25
5008
Click For Price
NWE-43348
1690
1352
81,120
80%
2100
24
160x13.5x25 or 80x27.0x25 or 40x54.0x25
5344
Click For Price
NWE-43349
1990
1592
95,520
80%
2100
24
160x13.5x28 or 80x27.0x28 or 40x54.0x28
6200
Click For Price
---