SOUTHWEST WIND POWER

We are Factory Trained and Certified Southwest Windpower dealers. We can consult with you on all your wind turbine needs and design a system for you that will work correctly at your specific location. Please use us as your expert resource.
If you're thinking about Southwest Windpower wind turbines, or you wonder if it's feasible for your location, call us. We have the expertise and the resources to help you determine if wind is right for you. We have wind maps for all of the United States, Pacific Islands and Southeast Asia.
We can design and integrate a Southwest Wind Power wind turbine system to work seamlessly with your solar electric system. If you need answers, call toll free 888-826-0939, us we have the answers.
We recommend and sell Turbines by Southwest Wind Power



The AIR-X Series Wind Turbines
Introducing the latest evolution in small Southwest Windpower wind turbines. The AIR-X builds upon what made AIR the world's #1 selling small wind turbine with new technology previously found only in today's state-of-the-art mega-watt-class wind turbines.

AIR X Wind Turbine
AIR-X and AIR-X MARINE: The new AIR X improves on the revolutionary features of the 403.
NEW ELECTRONICS: The AIR-X incorporates an entirely new rectifier and controller. The new microprocessor based controller provides voltage regulation, peak power tracking and quiet, stall control in high winds.
NEW ALTERNATOR: The alternator was designed to complement the Peak Power Tracking ability of the new control electronics. MPPT and dynamic braking mean no blade flutter, making the AIR-X significantly quieter. Braking and regulation shorts all three stator windings, instead of two in the 403, so the AIR-X operates 100°C cooler than the 403.
IMPROVED BATTERY CHARGING: Previous AIR designs required 300-400 amp hour battery banks so the trickle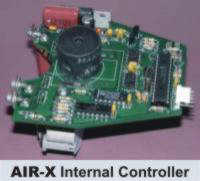 charge of the wind turbine could be adequately absorbed. The AIR-X's charge controller periodically stops charging, reads the battery voltage, compares it to the voltage setting and if the battery is charged, it completely shuts off all current going to the battery. This function is performed within a few milliseconds. The closer the battery is to reaching its full state of charge, the more often the AIR-X's circuit repeats this action. This means any size battery bank from 25 to 25,000 amp hours or higher can be charged safely. When the battery has reached its charged state, the AIR-X will slow to an almost complete stop. Only when the battery has dropped below its voltage set point will it startup and resume charging. The Benefit: Extended battery life, no overcharging.
Available in 12 and 24 volts. A 48 volt model is still in testing.
NEW BLADES: The rotor blades use a highly efficient, true airfoil. The result is quieter performance and minimal vibration. The control electronics will slow the blades before the turbine reaches the point of flutter.
NEW YAW SHAFT: The AIR-X features a new yaw shaft that allows for stronger clamping forces to the tower.
AIR-X Specifications
| | |
| --- | --- |
| Rotor Diameter: | 46" (1.14 meters) |
| Weight: | 13 lbs (6 kg) |
| Start up wind speed: | 7 mph (3 m/s) |
| Voltage: | 12 & 24 VDC (36/48 VDC available soon) |
| Output: | 400 watts at 28 mph (12.5 m/s) |
OUTPUT
12 MPH average= 45KWh per month.
15 MPH average= 80KWh per month.
Three year warranty standard or Five year extended warranty.

AIR-X Marine has fully sealed electronics, a highly corrosion-resistant powder coated finish and unique aircraft-quality cast aluminum construction. This assures you years of maintenance-free operation. AIR-X marine has been proven at sea under demanding transatlantic race conditions. Available in 12 and 24 volts.
Marine Applications
| | |
| --- | --- |
| | Sailboats - Recreational boating |
| | Offshore beacons and remote monitoring equipment |
| | Oceanside homes & cabins |
| | Water pumping |
| | Battery charging |
| | Science & education projects |

The Whisper Wind Turbine Series
Whisper, a name with more than 10 years of experience in the field, has been re-engineered and launched under the Southwest Wind Power family of wind turbines. The Whisper has an all-new look featuring a cast aluminum frame and smooth, quiet operation of the patented "angle-governor" furling design.
Whisper H40 Wind Turbine now the Whisper 100

Whisper H80 Wind Turbine
Whisper H80 - The H80 is designed for the user located in low to moderate wind speed averages (less than 12mph, 5.4m/s).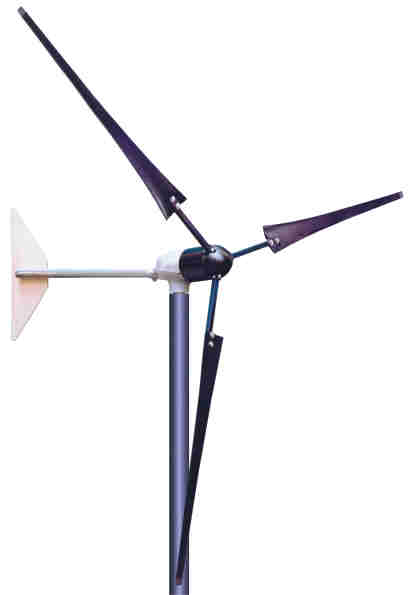 The bigger brother to the H40, the H80 features a 10 ft (3.1m) rotor diameter and an 80 sq. ft. swept area that provides the user with greater output at low wind speed averages. The H80 has twice the swept blade area, providing double the potential energy as compared to the H40. The H80 also incorporates a permanent magnet alternator powered with an advanced airfoil, thus capturing the most energy in its class as compared to other competitive wind turbines. The H80 will deliver 6.3 KWH per day.

The H80 comes with the standard EZ Wire controller.
Turbine and controller are included in the price of the system. Optional towers are available.
H80 Specifications
Rotor diameter:
10' (3.0 meters)
Weight:
65 lbs (30 kg)
Mount:
2.5" Schedule 40
Start-Up wind speed:
7.0 mph (3.1 m/s)
Voltage:
12, 24, 32, 36, 48 VDC
230V High VAC
Peak Power:
1000 Watts @ 24 mph (10.5 m/s)
OUTPUT
12 mph = 105 KWh per month.
15 mph = 170KWh per month.
Three year warranty standard or Five year extended warranty.

Whisper 175 Wind Turbine
Whisper 175 - The most powerful wind turbine in our lineup
T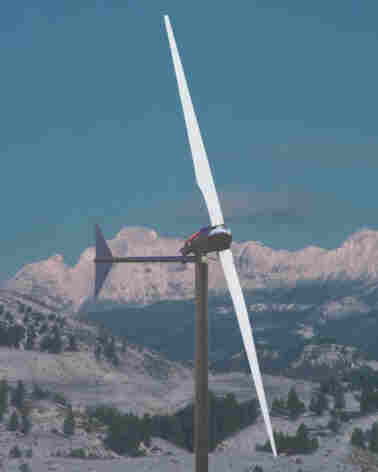 he 3000-watt rated turbine will deliver in excess of 500 KWH per month in a 12 mph wind. This machine has a 14-foot (4.26m) rotor diameter providing 175 sq. ft. of swept area. The 175 has been redesigned, incorporating a stronger, larger yaw shaft, new blade stabilizer straps and a third spindle bearing for increased reliability.

The 175 features a hand laid fiberglass and foam core blade for smooth, high efficiency operation and low wind start-up. It also incorporates the patented "angle governor" design for quiet operation in high winds. The 175 is an excellent machine for village power projects, farms, ranches, back-up power and remote homes with large energy demands.
Whisper 175 Specifications
| | |
| --- | --- |
| Rotor diameter: | 15' (5.0 meters) |
| Weight: | 175 lbs (55 kg) |
| Mount: | 5" Schedule 40 |
| Start-Up wind speed: | 7.1 mph (3.1 m/s) |
| Voltage: | 24, 32, 48 VDC |
| Peak Power: | 3200 Watts @ 27 mph (12 m/s) |
OUTPUT
12 mph = 500 KWh per month.
15 mph = 820 KWh per month.
Three year warranty standard or Five year extended warranty.

Measuring Wind Speed
You can use the measuring device discussed in this section to determine wind speed. The Kestrel wind speed indicator is like a speedometer, displaying wind speed at the time you are looking at it, but it does not record any information for future reference. The NRG can be mounted on a tower to give you an idea of wind speed where the generator will be located. If you measure wind speed at ground level, you can expect about 1.5 times the wind speed 30 feet up, which equates to about three times the power. At 120 feet above the ground, wind speed will be twice what is measured at ground level and power output will be more than twice the output at 30 feet. If you do not have a wind gauge, you can get a rough idea of wind speed from the table below.
| | |
| --- | --- |
| Wind Speed (MPH) | Wind Effect |
| 0-1 | Smoke rises vertically. |
| 2-3 | Direction of wind shown by smoke drift, but not by wind vanes. |
| 4-7 | Wind felt on face; leaves rustle; ordinary wind vane moved by wind. |
| 8-12 | Leaves and twigs in constant motion; wind extends a light flag. |
| 13-18 | Raises dust, loose paper; small branches are moved. |
| 19-24 | Small trees in leaf begin to sway; crested wavelets form on inland waters. |
| 25-31 | Large branches in motion; whistling heard in power lines; umbrella use is difficult. |

The Most Complete Renewable Energy
Product Inventory
There are over 400 Pages on this Web site. It is one of the world's largest Renewable Energy web sites. Take some time and check out the amazing and essential products we offer.
Our solar panels are the lowest price on the planet!