CONCORDE SUN XTENDER BATTERY
REAL PEOPLE - WWW.THESOLARBIZ.COM - 888-826-0939
---
We have been in the battery business since 1969 - almost a half century. Please give us a call toll free 888-826-0939 if you have questions or need any assistance whatsoever.
Important Downloadable Bulletins for Battery Users.
Sun Xtender 915 Amp Hour 2 Volt Cell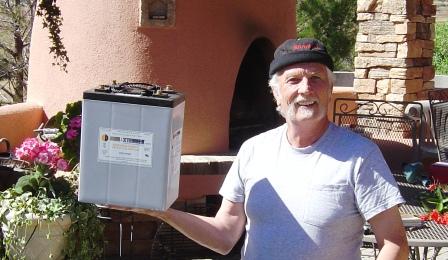 Just in time for the summer season! We are offering super low pricing for one of the best batteries on the market.
Weighs 94 Lbs. 915 AH at the 24 hour rate. Two Volt is the building block of all long lasting renewable energy battery systems. Series connect for 12, 24 or 48 volt systems. By avoiding parallel connected strings the life of your batteries nearly double.
This battery is the perfect choice for Marine, Larger RV and many off grid applications. It's also the smart choice for uninterruptible back up systems as well.
AGM batteries will not freeze even when discharged, making it perfect for weekend cabins which sit unattended over the winter.
Concorde has also just released a 1215 Amp Hour battery CON-30901 in the L16 size see pricing below, Call us 888-826-0939 about this larger battery.
CON-30900 Concord 2 volt 915 AH Battery PVX-9150T FREE SHIPPING CLICK FOR PRICE
---
Concorde Battery Corporation is a manufacturer of premium quality lead-acid batteries. The present product lines include valve regulated (sealed) lead-acid batteries (VRB) for aircraft, marine, medical, telecommunications, emergency backup, and photovoltaic applications as well as flooded lead-acid batteries for commercial and military aircraft.
Concorde AGM battery technology has continued to develop and offer improvements over other sealed battery technologies. AGM technology has become the next step in the evolution of both starting and deep cycle sealed batteries for marine, RV, and aviation applications. These are the same type of batteries that the Navy and Air Force used in Desert Storm in their F-18 and F118B "stealth", and in the Marine Corps "HumVees".. This "next generation" technology delivers increased safety, performance, and service life over all other existing sealed battery types, including gel technology. All Concorde AGM batteries carry a one-year full warranty - most gelled cells carry only a 90-day warranty.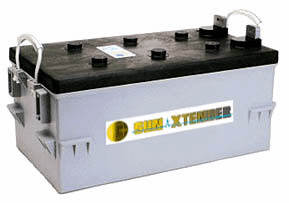 AGM batteries such as Concorde have much better resistance to vibration and shock due to their construction than most flooded batteries. The plates are packed in with the glass mat, reducing plate movement and vibration to nearly nothing. In addition, because the glass mats are not totally saturated and the liquid does not expand to cause plate and case damage, AGM batteries can withstand freezing.
---
Standard "T" Terminals: All "T" batteries now incorporate copper alloy M8 terminals except the PVX-340T which are M6. All batteries supplied with silicon bronze bolts, nuts, and washers as required for installation. No exposed lead terminals. This change was made to improve environmental safety and health.
"L" Terminals: "L" Blade terminals are installed On the 4D and 8D batteries.
Handles: All part numbers include lifting handles except the PVX-340T, PVX-490T and PVX-2240L.
Ratings: Capacity ratings are stated at 77F (25 C) to 1.75 volts per cell.
CHARGING INSTRUCTIONS
Initial charge or recharge: 2.37 to 2.40 volts per cell at 25 C (77 F).

Float charge: 2.23 volts per cell at 25 C (77 F).

Equalize charge: 2.40 volts per cell at 25 C (77 F). Temperature compensation = ±3.75 mV. per cell per degree C [Reference to 25 C (77 F)]. This is for battery temperature (not ambient temperature) and is useful for battery temperatures from O C (32 F) to 40 C (104 F). Contact Concorde Battery Corporation for temperatures that exceed this range.

Specifications subject to change without notice
In AGM sealed batteries, the acid is absorbed between the plates and immobilized by a very fine fiberglass mat. No silica gel is necessary. This glass mat absorbs and immobilizes the acid while still keeping the acid available to the plates. This allows a fast reaction between acid and plate material. Even if the battery is broken, no electrolyte will be spilled.
---
Concorde SunXtender AGM Batteries
We Have a Low Price Guarantee - Pricing includes FREE SHIPPING (see below)
| | | | |
| --- | --- | --- | --- |
| Part Number | BCI Group/Mfg.# | Wt. Lbs. | PRICE |
| CON-30529 | PVX-340T AGM 12v, 34 AH | 25 | CLICK FOR PRICE |
| CON-30500 | PVX-420T AGM 40 AH Battery | 30 | |
| CON-30509 | PVX-490T AGM 12v, 49 AH | 36 | |
| CON-30508 | PVX-560T AGM 55 AH | 40 | |
| CON-30505 | PVX-690T AGM 12v, 65 AH | 51 | |
| CON-30520 | PVX-840T 80 AH 12 Volt AGM | 57 | |
| CON-30510 | PVX-890T 85 AH 12 Volt AGM | 62 | |
| CON-30526 | PVX-1080T AGM 12v, 108 AH | 70 | |
| CON-30506 | PVX-1040T AGM 12v, 104 AH | 66 | |
| CON-31505 | PVX-2120L 210 A/H 12 volt AGM | 138 | |
| CON-30503 | PVX-2580L AGM 12v, 258 AH | 165 | |
| CON-30901 | PVX-12150HT AGM 2 volt 1215AH | 124 | |
| CON-30900 | PVX-9150T 2 volt 915 AH AGM | 94 | |
| CON-30502 | PVX-2240T or L AGM 6v, 224 AH | 67 | |
---
FREE SHIPPING Batteries up to 70 Lbs can ship UPS. Over 70 Lbs ship truck freight, to a Commercial Location
---
Battery Cable - Interconnects
Highest quality multi-stranded copper welding cable with twelve ton crimped tinned copper lugs and heat shrink tubing on both ends. Our crimped copper lugs make the best connection because they are a copper to copper connection.
After over thirty years experience of making battery cables for the over the road heavy truck industry we don't solder our cables because a soldered connection puts solder between the wire and the lug and solder is not as good a conductor as copper. A copper to copper twelve ton crimped connection is the best because, it carries the most amperage.
We have listed the two most popular sizes below. The 12 inch is commonly used to series connect T-105, L-16 and other batteries. The 20 inch is used for parallel connections.
We will custom make any gauge and length interconnect you require, using superior quality MagnaLugs and Heavy duty Heat Shrink, call 888-826-0939 to order.
We also have a complete stock of interconnects for Post Type Batteries Call 888-826-0939 for pricing.
---
California Proposition 65 Warning
Battery posts, terminal, and related accessories contain lead and lead compounds, chemicals known to the State of California to cause cancer and reproductive harm. Wash hands after handling.

· We are a full service company. We want a real person to consult with you because, we want to be sure that you don't waste your time and money and that you buy only what you need.
· We strongly recommend that you talk with us first about your solar power needs. Please use our expertise as a resource.
We have been working with solar energy & battery systems since 1969... Almost a Half Century of Experience. Our 47th Anniversary!!
If you think you find a better price anywhere, call us before you buy.

Call us Toll Free at: 1-888-826-0939
Central America: (Panamá) 507-836-5588
Other International: 1-575-539-2111
E-mail us at: info@solar-biz.com
PLEASE NOTE: Hours, Monday thru Friday 9:00 AM to 7:00 PM Central Time.
Doing business with The Solar Biz is easy! Check out our Terms and Conditions regarding ordering, payments, shipping, returns, credits and special handling.
Except as otherwise noted, the text and graphics provided on our web site are copyrighted by The Solar Biz Inc. or its licensors. Material on this site is intended for your personal use only. The Solar Biz Inc. does, however, permit visitors to make a single copy of the information published on The Solar Biz Inc. web site for their personal, non-commercial use or use within the organization that employs them.
Pursuant to the Digital Millennium Copyright Act of 1998, use of this web-site's unique copyright protected intellectual property or Registered Trademarks, without prior written permission, for any purpose including but not limited to advertising, promotion or sale of products or services, for business or private financial gain, any commercial advantage, or the enhancement of competing websites, or any other marketing media, constitutes an act of willful copyright infringement.
PLEASE NOTE: Such willful infringement provides for substantial financial penalties and potential criminal prosecution. Remedies for such violations include not only injunctive relief against the infringer, but also recovery of profits and damages suffered by the copyright owner. 17 U.S.C.A. § 504. In addition, such relief includes recovery of attorneys' fees and costs incurred in connection with litigating the matter where infringement is willful. For more information on THE DIGITAL MILLENNIUM COPYRIGHT ACT OF 1998 please visit: http://www.copyright.gov/legislation/dmca.pdf
Copyright © 1997- 2016 The Solar Biz ™. All Rights Reserved