FLEXware 250 AC/DC System Enclosure
REAL PEOPLE - WWW.THESOLARBIZ.COM - 888-826-0939
---
OutBack Power Systems is proud to introduce their latest innovation: FLEXware, the next evolution of balance-of-system components.
They listened to their integrating partners, installers in the field and system owners. They took their suggestions and improved our product, from knockouts and breaker locations to more shared parts for easier ordering and stocking.
FLEXware is better integrated, modular, and more spacious than any of our previous metal hardware. Components are more versatile, there's more space for wiring, and the all-aluminum, powder-coated construction is highly corrosion resistant for an installation that looks great even longer.
FLEXware 250 AC/DC System Enclosure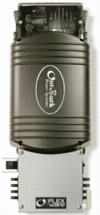 The FW250 AC/DC connections enclosure shown at left with an FX series Inverter/charger (Not Included).
For applications with modest power requirements like Cabins, Over the Road Trucks, Service Delivery Vans, Horse Trailers, Boats, Recreational Vehicles, Remote Communication Sites and Back-up Power Systems,
The FLEXware 250 accommodates all of the essential protective devices in the smallest possible space at the lowest installed cost. The FW250 enclosure is designed to mount on either, or both, ends of an OutBack FX inverter.
Smaller systems can include both the DC disconnect and AC input / output breakers in the same enclosure mounted on just the DC end of the inverter. Systems with more AC and DC components should use two FW250 enclosures, one on each end of the inverter. The FW250 system does not require a FLEXware MP mounting plate or the optional DCA or ACA conduit adapters. The FW250 can also be used on multiple inverter systems when installation space is limited.
As with all of the FLEXware systems – order the necessary DC and AC breakers, AC input-output-bypass kits and all other additional components separately. See our DC Components Page and our AC Components Page for available components and individual component pricing.
OBP-14250 FLEXware 250 AC/DC Enclosure PRICE: Click for Pricing
---
We have been working with solar energy & battery systems since 1969... Over Four Decades.
Forty Four
Years Experience!!
Our Solar Panel Prices are The Best on The Planet

We are a full service company. We want a real person to consult with you because, we want to be sure that you don't waste your money and that you only buy what you need.

We recommend that you talk with us first about your solar power needs. Please use our expertise as a resource.
If you think you find a better price anywhere, call us before you buy.
REAL PEOPLE - WWW.THESOLARBIZ.COM - 888-826-0939
International 575-539-2111
Central America (Panama) 507-730-7865 or 507-6126-1253