MidNite Solar E-Panel for Schneider XW Inverter Systems
THE SOLAR BIZ - REAL PEOPLE - REAL ANSWERS - 888-826-0939
---
Schneider XW System -The Next Generation
MidNite Solar E-Panel for Schneider's XW Series Inverter System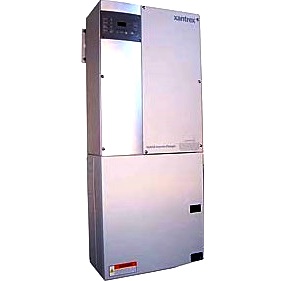 Here we have everything in one box. A classy alternative to the Xantrex XW Conduit Box and the Distribution Panel. Features: 250 amp inverter battery breaker, 2 separate AC inputs for generator and utility, knockouts for up to seven din rail mount DC breakers and six panel mount breakers.
Massive tin plated copper bus bars directly connect to the XW's battery terminals, bus bars for AC inputs, AC output, neutral, ground, PV + in, PVin, Bat +, Bat-, 500 amp shunt, metal dead front behind the reversible door,
Charge controllers can mount to either side or both sides at once for dual controllers if possible by controller. AC bypass can be configured as input & output on/off as well as AC bypass. The New Xantrex XW MPPT charge controller mounts on the right only (pictured) and requires no mounting bracket.
Size of E-Panel: 16" wide, 18" tall, 8" deep.
NOTE: The Xantrex XW and the Apollo controllers only mount to the right side
MNS-30000 250XW E-panel for Schneider XW Series Inverter CLICK HERE FOR PRICING
Schneider's XW System -The Next Generation
Get the Complete System CLICK HERE for All the System Components
---
We have been working with solar energy & battery systems since 1969... Over Four Decades.
Forty Four
Years Experience!!
Our Solar Panel Prices are The Best on The Planet

We are a full service company. We want a real person to consult with you because, we want to be sure that you don't waste your money and that you only buy what you need.
If you think you find a better price anywhere, call us before you buy.

Call us Toll Free at 1-888-826-0939
PLEASE NOTE:
Hours, Monday thru Friday 10:00 AM to 5:30 PM Mountain Time.