Schneider (Xantrex) XW INVERTER SYSTEM

THE SOLAR BIZ - REAL PEOPLE - REAL ANSWERS - 888-826-0939
---
Schneider's XW Inverter System -The Next Generation

Schneider XW Series Inverter System

<![if !vml]>

<![endif]><![if !vml]>
<![endif]><![if !vml]>

<![endif]><![if !vml]>

<![endif]><![if !vml]>

<![endif]><![if !vml]>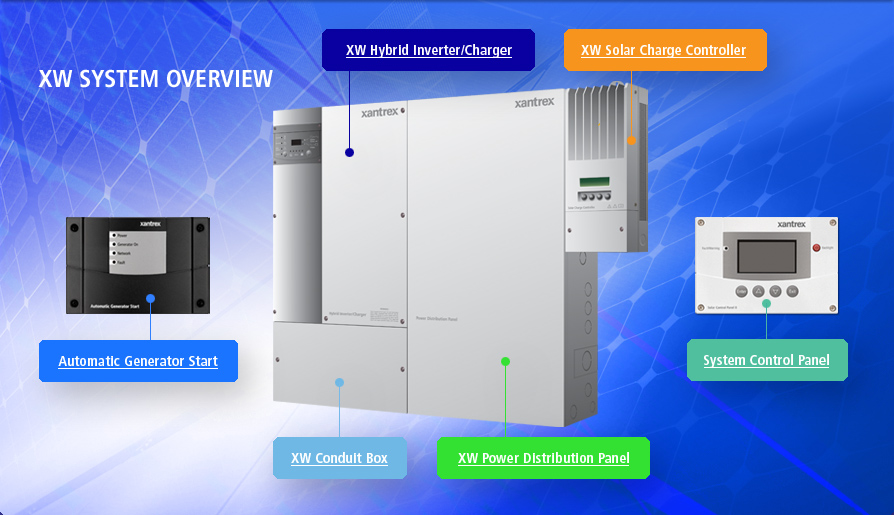 <![endif]>
Click a Component for More Information and Lowest Pricing
Don't forget to look at the Midnite Solar E-Panel for XW
The Xantrex XW System is a fully-integrated, battery-based system, designed for residential and commercial solar and backup power applications. Engineered using a complete systems approach, the XW System stands out from its competition, with a reliable, clean, compact design and integrated balance-of-systems components.
Available XW System Components Include:
<![if !vml]>

<![endif]><![if !vml]>

<![endif]><![if !vml]>

<![endif]> <![if !vml]>

<![endif]>
---
We have been working with solar energy & battery systems since 1969...
Forty Four Years Experience!!

The Most Complete Renewable Energy
Our solar panels are the lowest price on the planet!
---
We are a full service company. We want a real person to consult with you because, we want to be sure that you don't waste your money and that you only buy what you need.

We recommend that you talk with us first about your solar power needs. Please use our expertise as a resource.
If you think you find a better price anywhere, call us before you buy.

Call us Toll Free at 1-888-826-0939
PLEASE NOTE:
Hours, Monday thru Friday 10:30 AM to 5:30 PM Mountain Time.
OH DARN! We make every effort to be exact with out specifications, copy and photography. Errors do occur sometimes, and we apologize for them. We reserve the right to make changes and correct errors to prices and specifications whenever and wherever necessary. We also reserve the right to limit quantities and change pricing. We do appreciate your understanding.
---