Schneider XW Automatic Generator Start
THE SOLAR BIZ - REAL PEOPLE - REAL ANSWERS - 888-826-0939
---
Schneider XW Inverter System -The Next Generation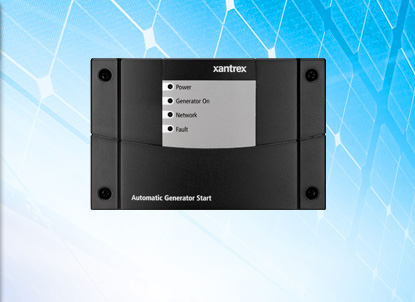 The XW Auto Generator Start Control Module is a Xanbus™-enabled device that can automatically activate a generator to provide an XW Series Inverter/Charger with power to recharge depleted batteries or assist with heavy loads. Compatible with popular generators, the XW AGS adds intelligence to power management and eliminates time spent monitoring batteries and inverter loads. The XW AGS can be configured to start the generator in response to low battery voltage, thermostat operation, or load size on the inverter battery. A quiet-time setting prevents the generator from starting at inconvenient times. The LCD display shows the status of the XW AGS, while all user-defined settings are programmed through the XW System Control Panel.
Interfaces with:
XW Hybrid Inverter/Charger(s), XW Solar Charge Controller(s),
and XW SCP
XAN-13025 XW Auto Generator Start Control Module CLICK HERE FOR PRICING
Schneider XW System -The Next Generation
Get the Complete System CLICK HERE for All the System Components
---
We have been working with solar energy & battery systems since 1969... Over Four Decades.
Forty Four
Years Experience!!
Our Solar Panel Prices are The Best on The Planet

We are a full service company. We want a real person to consult with you because, we want to be sure that you don't waste your money and that you only buy what you need.

We recommend that you talk with us first about your solar power needs. Please use our expertise as a resource.
If you think you find a better price anywhere, call us before you buy.

Call us Toll Free at 1-888-826-0939
PLEASE NOTE:
Hours, Monday thru Friday 10:30 AM to 5:30 PM Mountain Time.
OH DARN! We make every effort to be exact with out specifications, copy and photography. Errors do occur sometimes, and we apologize for them. We reserve the right to make changes and correct errors to prices and specifications whenever and wherever necessary. We also reserve the right to limit quantities and change pricing. We do appreciate your understanding.
---