Schneider (Xantrex) XW Series Inverter Chargers
THE SOLAR BIZ - REAL PEOPLE - REAL ANSWERS- 888-826-0939
---
Schneider XW System -The Next Generation
Schneider XW Inverter Charger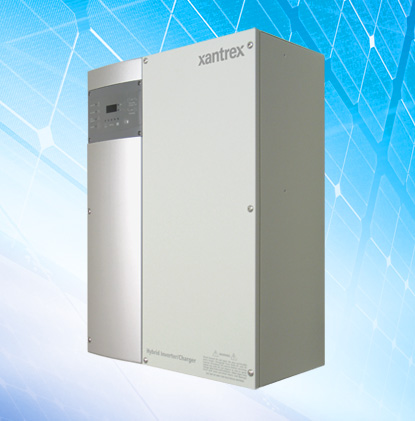 The XW Hybrid Inverter/Charger is a true sine wave inverter/charger that can be used for both residential and commercial applications; stand-alone, grid-backup, and grid-tie with battery energy storage. Capable of being grid-interactive or grid-independent, the XW Series will operate with generators and renewable energy sources to provide full-time or backup power.
Integrated balance-of-systems components
6 Models available in 120/240-volt 60 Hz split-phase operation or 230 Volt 50 Hz operation and true sine wave output
Unsurpassed surge capacity - innovative Full Digital Control regulates voltage to prevent a drop during a power surge.
Full 200% rated output power is delivered to the load
Efficient, power factor corrected, high-current, multistage
battery charging
Certified to UL1741 and CSA for utility-interactive applications
Easy and inexpensive to install
Local display on inverter shows output power, charge current and battery level, to provide system status at a glance
Designed for easy field installation with manageable building blocks
Schneider's XW Inverter System -The Next Generation
Get the Complete System CLICK HERE for All the System Components
| | | |
| --- | --- | --- |
| Part Number | Description | Our Low Prices |
| SCH-13001 | Xantrex XW6048 Hybrid System Inverter/Charger 6000VA, 48Vdc, 120/240Vac, 60Hz | CLICK FOR PRICE |
| SCH-13002 | Xantrex XW4548 Hybrid System Inverter/Charger 4500VA, 48Vdc, 120/240Vac, 60Hz | CLICK FOR PRICE |
| SCH-13003 | Xantrex XW4024 Hybrid System Inverter/Charger 4000VA, 24Vdc, 120/240Vac, 60Hz | CLICK FOR PRICE |
| SCH-13004 | XW6048-230-50 Export Inverter/Charger | CLICK FOR PRICE |
| SCH-13005 | XW4548-230-50 Export Inverter/Charger | CLICK FOR PRICE |
| SCH-13006 | XW4024-230-50 Export Inverter/Charger | CLICK FOR PRICE |
---
We have been working with solar energy & battery systems since 1969... Over Four Decades.
Forty
-Four Years Experience!!
Our Solar Panel Prices are The Best on The Planet

We are a full service company. We want a real person to consult with you because, we want to be sure that you don't waste your money and that you only buy what you need.

We recommend that you talk with us first about your solar power needs. Please use our expertise as a resource.
If you think you find a better price anywhere, call us before you buy.

Call us Toll Free at 1-888-826-0939
PLEASE NOTE:
Hours, Monday thru Friday 10:30 AM to 5:30 PM Mountain Time.
OH DARN! We make every effort to be exact with out specifications, copy and photography. Errors do occur sometimes, and we apologize for them. We reserve the right to make changes and correct errors to prices and specifications whenever and wherever necessary. We also reserve the right to limit quantities and change pricing. We do appreciate your understanding.
---