Schneider XW System Control Panel
THE SOLAR BIZ - REAL PEOPLE - REAL ANSWERS - 888-826-0939
---
Schneider's XW Inverter System -The Next Generation
Xantrex New XW System Control Panel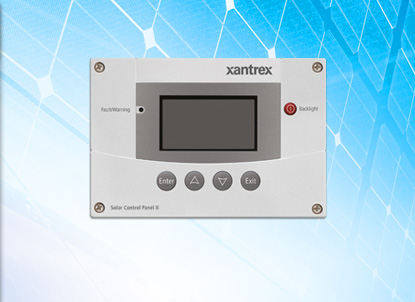 The XW SCP is a Xanbus™-enabled device featuring a graphical, backlit LCD screen that displays system configuration and diagnostic information for all devices connected to the network. When installed as an XW System accessory, the XW SCP eliminates the need for separate control panels for each device and gives a single point of control to set up and monitor an entire XW Power System.
Interfaces with:
XW4024, XW4548, XW6048 Inverter/Charger(s),
XW Solar Charge Controller, XW Auto Generator Star
XAN-13020 Schneider XW System Control Panel CLICK HERE FOR PRICING
Schneider's XW System -The Next Generation
Get the Complete System CLICK HERE for All the System Components
---
We have been working with solar energy & battery systems since 1969... Over Four Decades.
Forty
Four
Years Experience!!
Our Solar Panel Prices are The Best on The Planet

We are a full service company. We want a real person to consult with you because, we want to be sure that you don't waste your money and that you only buy what you need.

We recommend that you talk with us first about your solar power needs. Please use our expertise as a resource.
If you think you find a better price anywhere, call us before you buy.

Call us Toll Free at 1-888-826-0939
PLEASE NOTE:
Hours, Monday thru Friday 10:30 AM to 5:30 PM Mountain Time.
There are almost 500 Pages on this Web site. It is one of the world's largest Renewable Energy web sites. Take some time and check out the amazing and essential products we offer.
OH DARN! We make every effort to be exact with out specifications, copy and photography. Errors do occur sometimes, and we apologize for them. We reserve the right to make changes and correct errors to prices and specifications whenever and wherever necessary. We also reserve the right to limit quantities and change pricing. We do appreciate your understanding.
---