Energy Saving Small Appliances
REAL PEOPLE - NOT "BUY IT" BUTTONS

DC Ventilation Fans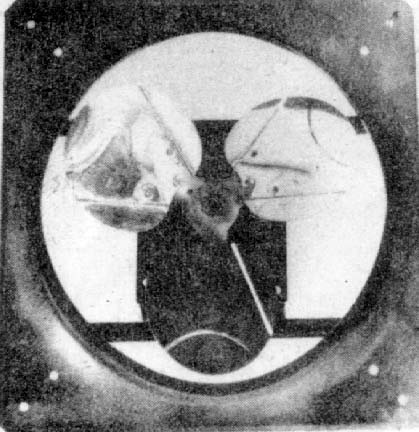 Comes with three-wing aluminum blades and mounted in a square steel venturi; may be used in greenhouses, barns, attics, kennels, etc. They can run from a 12V battery or directly from PV modules. Order Modules separately
| | |
| --- | --- |
| | Use SX20M Module for the 1612 Model. |
| | Use SX10M Module for the 1212 Model. |
| | The solar attic fan includes it's own module. |
| Model Number | Description | Voltage | Amperage | Air Movement | Price |
| --- | --- | --- | --- | --- | --- |
| 1612 | Intake/Exhaust fan 16" | 12VDC | 1.1A | 1000CFM | $169.97 |
| 1212 | Intake/Exhaust fan 12" | 12VDC | 0.5A | 450CFM | $159.97 |
| 86009 | Solar Attic Fan w/solar module, roof mount | 12VDC | 1.2A | 1100CFM | $379.97 |

Evaporative Coolers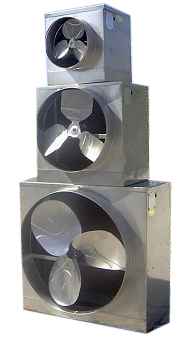 SOLAR CHILL Stainless Steel Evaporative cooler cools air and filters out dust and pollen. Uses a new spray-maker design and a high efficiency trouble-free pump. The filter will not promote bacterial growth or odor. The units operate on a 12V or 24V battery or 60 to 150 watt PV modules. Various Sizes available Wt. 30 to 90 Lbs. Peak outputs 800CFM to 5200CFM, One year limited warranty.
Recommended only for climates with average relative humidity less than 75%.
| | |
| --- | --- |
| | To calculate the size cooler you need: Use 3CFM per sq.ft. of space to be cooled. |
| | HP stands for High Performance Model. |
| | All coolers have an additional crating fee of $15 to $35. |
| | Prices do not include shipping and handling. |
| | Coolers run from a 12V or 24 V battery system Order Modules separately |
| | If units will run off batteries, further controls and accessories are required, please call for assistance in ordering. |
| | All units will require some ductwork and louvers for either window or roof installation. |
110 Volt AC adapters 12 volt DC 15 Amp available PRICE $123.97
KarKools and New 120VAC and 240VAC units now available.
| Model Number | Description | Actual Watts | Recommended PV panel watts | |
| --- | --- | --- | --- | --- |
| 1412XP | 1150CFM, 12Volt 14"Fan | 38 to 52 | 60 to 80 watts | $529.97 |
| 2012HP | 2000CFM, 12Volt 20"Fan | 53 to 73 | 85 to 130 watts | $659.97 |
| 2024HP | 2200CFM, 24Volt 20"Fan | 70 | 85 to 130 watts | $669.97 |
| 2412HP | 4000CFM, 12Volt 24"Fan | 80 to 120 | 120 to 200 watts | $879.97 |
| 2424HP | 4000CFM, 24Volt 24"Fan | 105 | 100 to 120 watts | $919.97 |
| 2-2024HP | 4400CFM, 24Volt Dual 20"Fans | 130 | 150 to 240 watts | $1079.97 |