Dankoff Solar Water Pumps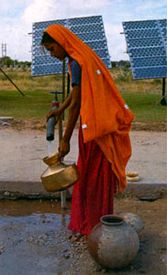 When it comes to solar water pumping the folks at Dankoff Pumps really know their stuff. We sell, install and repair these pumps and we have for years. If you have a question on water pumping give The Solar BiZ a call Toll Free 888-826-0939

Submersible Pumps
Looking for a well pump? We sell the complete line of Grundfos Submersible Well Pumps CLICK HERE to view

Surface Pumps
Non-submersible, to draw from surface water
.25 - 4 GPM, 450 Ft. Max.
1 - 15 LPM, 140 m max.



for domestic pressurizing,
micro-irrigation
and purification systems
3 - 5 GPM, 65 PSI max.
3 - 17 LPM, 4.6 bar max.



Incredibly dependable pump for water lifting or pressurizing. Shown with optional pressure tank.
3.5 - 9 GPM, 230 Feet or 100 PSI max.
13 34 LPM to 70 m max.



for irrigation, circulation, swimming pools
10 - 50 GPM, 100 Feet max.
39 - 190 LPM, 30 m max.



for very high lifts
3 - 9 GPM, 250 - 960 Feet
10 - 34 LPM, 75 - 290 m

DC Hot Water Circulating Pumps

High efficiency brass magnetic drive pumps for solar water heating, hydronic heating, and

We have been working with solar energy & battery systems since 1969... Over Four decades.
Forty-Four
Years Experience!!

Real People - Real Savings
| | |
| --- | --- |
| | We are a full service company. We want a real person to consult with you because, we want to be sure that you don't waste your money and that you only buy what you need. |
| | We recommend that you talk with us first about your solar power needs. Please use our expertise as a resource. |
If you think you find a better price anywhere, call us before you buy.
Call us Toll Free at 1-888-826-0939
PLEASE NOTE:
Hours, Monday thru Friday 10:00 AM to 5:30 PM Mountain Time.
OH DARN! We make every effort to be exact with out specifications, copy and photography. Errors do occur sometimes, and we apologize for them. We reserve the right to make changes and correct errors to prices and specifications whenever and wherever necessary. We also reserve the right to limit quantities and change pricing. We do appreciate your understanding.